SkyeHi Aussie Owner Gallery
Updates and photos of some of our puppies in their new homes.
"The "H" Pups"
*Hemi, Hunter, Hiatt, Hobi, Hudson, Heva, Honey, Harmony & Hazel*
Roper & Ryder Litter Born 10/14/2010
Hemi ~ Kingston, WA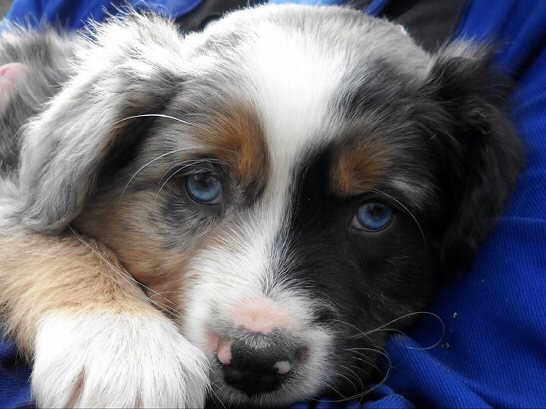 Hello! Just wanted to give you a quick email. Hemi's doing GREAT, growing fast and already loosing some of that "Puppy" look. He went in yesterday for his shot and hes up to 23lbs He will come when called, sit and play catch as long as I will.... Im getting old..lol I will send new pics soon, when I go through who has taken what. Thank you again!
Bob PS Vet says hes GREAT too, but we all knew that :)
Roper & Ryder Pup Born 10/14/2010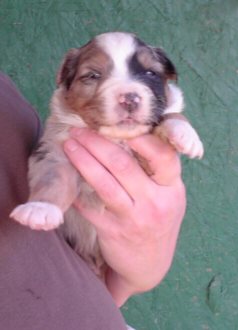 aka "Hemi"
Squiggles ~ San Diego, CA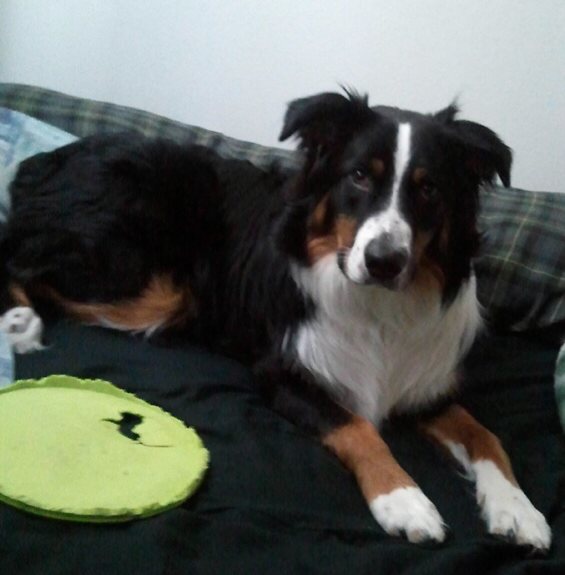 He is such an amazing dog. I wanted to send you a picture and an update to let you know how he is doing. He is very intelligent, he knows how to sit, come, stay, laydown, shake, rollover and a alot more. He just got fixed a two weeks ago and I'll send you the documents via email. We are currently staying in San Diego and we both love it. He is very healthy and the vet was impressed on how beautiful he is and the shinny and soft coat. He currently weighs 43lbs and still growing and getting faster and stronger. Thank you for such an amazing companion. Steven
Oct 2011
We just started herding classes last week Saturday :) he enjoys it and so do I. He's amazingly smart but he has his stubborn moments :) I like it tho. He's alot like me. We work together real well and he's very affectionate. I'm so proud and happy that I got such an amazing dog :). Thank you
Roper & Ryder Pup Born 10/14/2010
pka "Hunter"
MacAllister ~ Sammamish, WA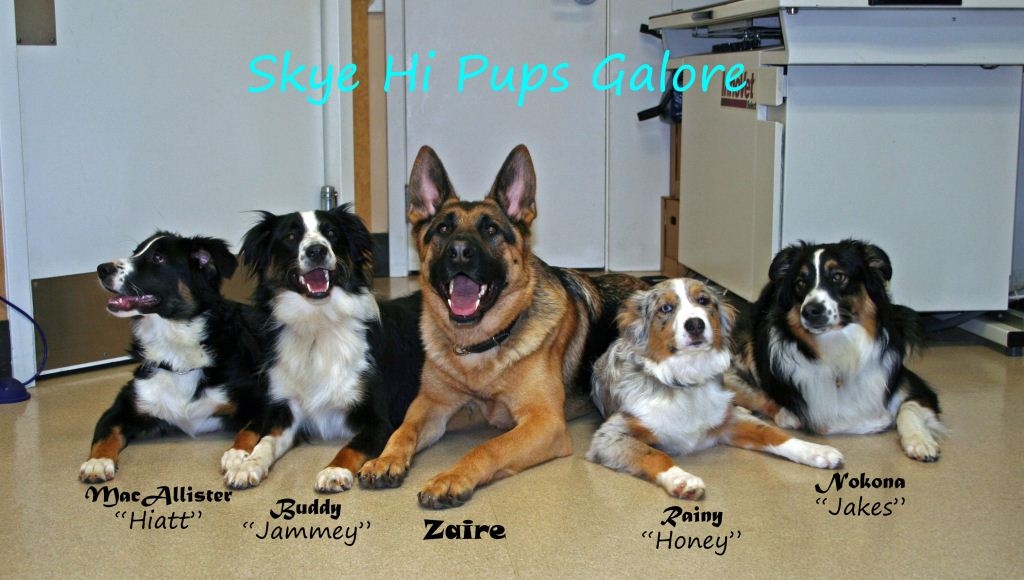 Hi Lynne, Mack is doing great. He is really smart. He is really close to being potty trained. We have almost no accidents already! They boys and Mack are doing great together as well. The kids are learning to give him chew toys when Mack wants to chew on their hands or legs. We are so happy to have him as part of our life. Mack also had his first visit to the Vet on Monday. This is not the same Vet that Kaitlin works for in Redmond. This vet has taken care of our cats for the past 5 years. It turns out that this vet also has Aussies too. Mack got a clean bill of health, or as the vet said "a perfectly healthy puppy." Thanks again for this wonderful puppy! -steve
" Roper & Ryder Pup Born 10/14/2010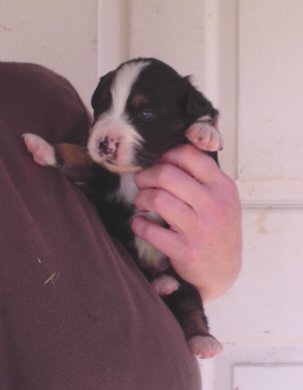 pka "Hiatt"
Ember ~Vancouver, WA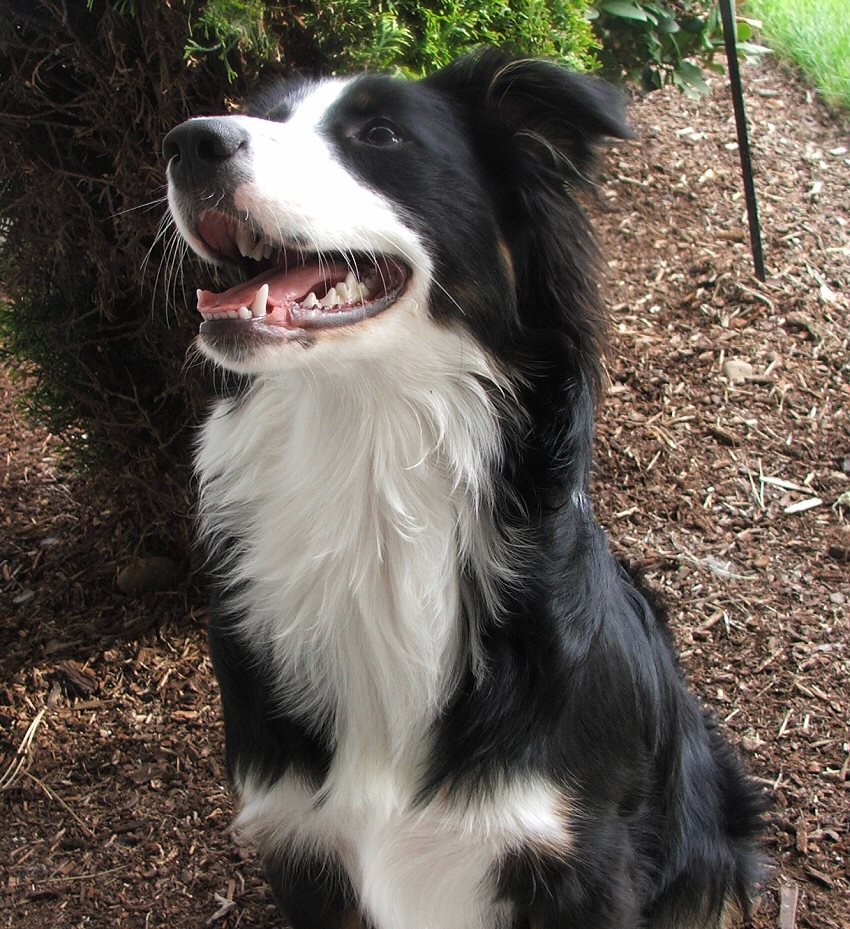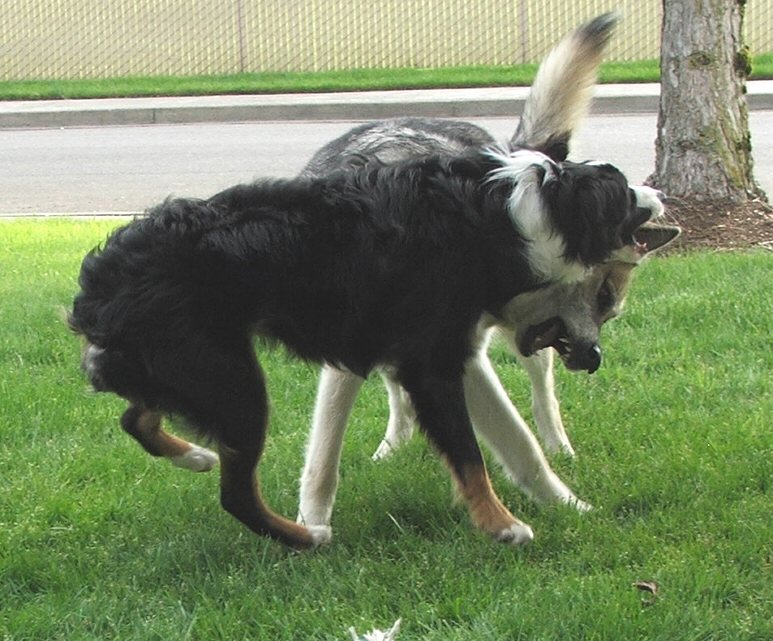 Lots of new experiences for Ember! She is used to traveling, down to the store or over to visit friends in Oregon. She's gotten to go on a couple hikes and has done beautifully! Today she got to go to hang out at the lake and was as happy as a clam. When people come visit she just loves getting more attention, and when she goes with us to visit, although she is much more protective and watchful of where we are, she does so well people are shocked when I tell them she is not quite 8 months yet. She is great around little kids, elementary, toddler, and infants almost as if she were a little mother. She has picked up everything so quickly! The newest trick is a high five. Her personality and expressions are priceless. A very loving and respectful puppy, absolutely devoted. Thank you so much! Here are some recent pictures of her. Gabrielle
~Ember has been by the clinic a few times to visit, she is a beautiful girl, last time I got a high five - both paws, smarty.~
Roper & Ryder Pup Born 10/14/2010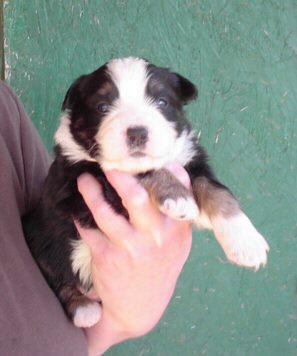 pka "Hazel"
Ruby ~ Leavenworth, WA
***
Update

Roper & Ryder Pup Born 10/14/2010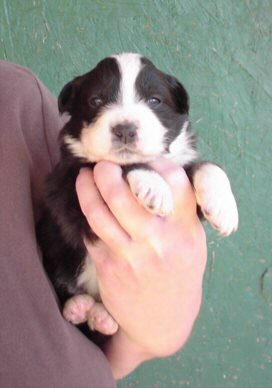 pka "Harmony"
Jack ~ Portland, OR
***
Hi Lynne, Our dog is doing great! He is wonderful. He has not chewed up anything. He rides really well in the car. He is content in his kennel when we have to leave him for a couple of hours. He is really doing well. He loves playing in the yard and hiding under the deck. I think he is now very comfortable here. Thanks again for our puppy! Merry Christmas! Joan

Roper & Ryder Pup Born 10/14/2010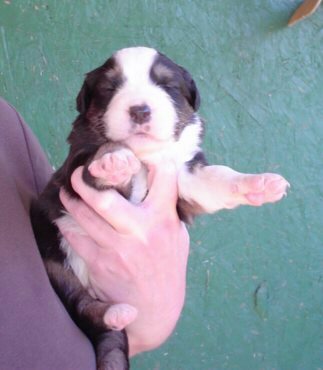 pka "Hudson"
Heva ~ Port Orchard, WA
***
Update

Roper & Ryder Pup Born 10/14/2010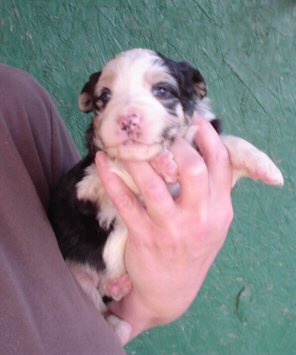 pka "Heva"
Reiney ~ Woodinville, WA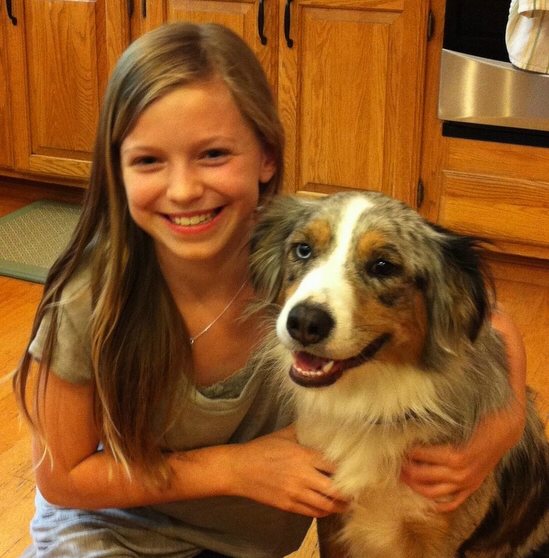 2012 Update ~ Hi Lynne: Thank you for the lovely card. Buddy (Jammey) and Rainy (Honey) continue to do well. They did a little 4H last year work last year and we have decided that agility is definitely their game. This year they will enter the AKC agility shows directly. Buddy already almost has his Novice A title for jumpers and standard - only one more leg in each to go. Rainy almost has her jumpers Novice A title. I am including some more up to date photos of them. Marie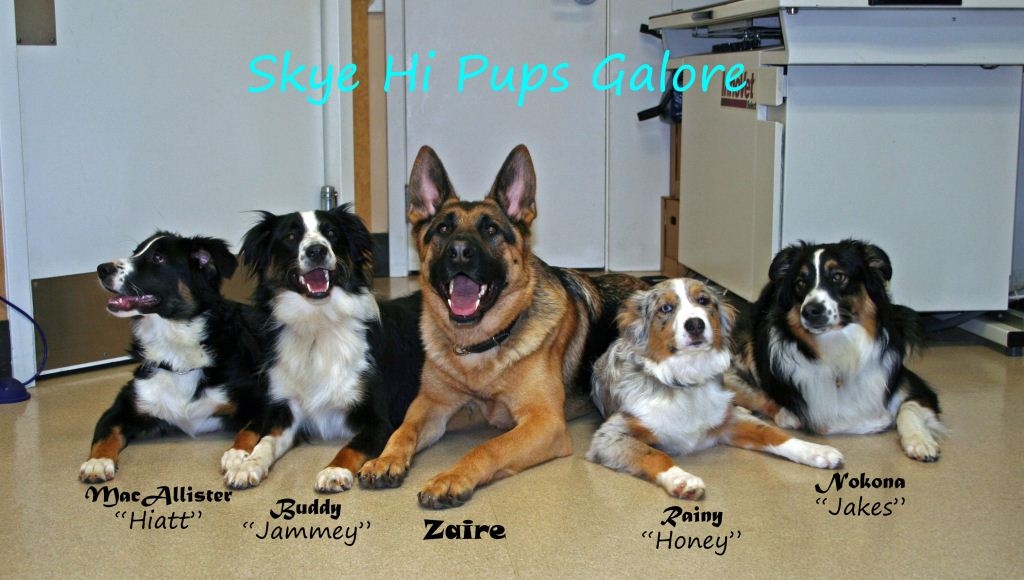 Rainy has made it home and is starting to fit in. Very sweet little girl. Thank you! Marie
Roper & Ryder Pup Born 10/14/2010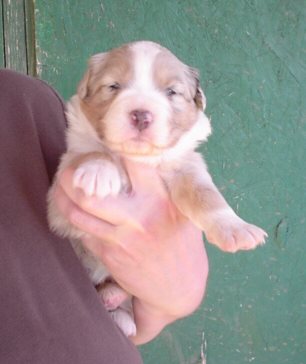 pka "Honey"
Hondo ~ OR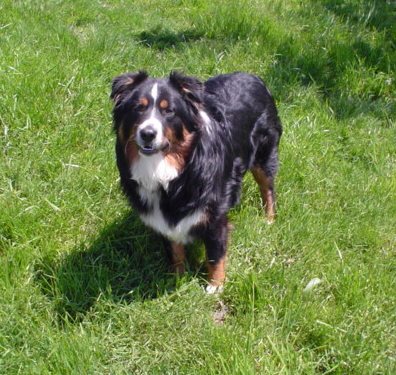 Hello Lynne, you have no idea how funny it is that you emailed, the kids were just asking me on Tues. if I had sent you any pics yet. We are in the middle of putting in a new house so I don't have my pc with the pics of him right now but as soon as I get it back up I will definately send you some. We call him Hondo and we love him to pieces, he moved right into our family beautifully! He loves our other dog "Pig", they are only 4 monthes apart in age and the best of friends, my son Emmett was just saying how they are Ying and Yang,lol. He really seems to love being a family/farm dog, he is good with the chickens, ducks, cow,pigs,horses, but he especially loves little children. My 2 year old grandson is his fav. I really have to thank you Lynne, he filled a need that was needing to be filled more than I realized I was ready to have filled. He really likes to go trail riding, he had his first ride on the back of the flatbed with Pig and the kids, he did great. I just can't say enough about how well he has adapted to farm life. Thanks again and I will get you pics as soon as I can, feel free to give me a call anytime
Roper & Ryder Pup Born 10/14/2010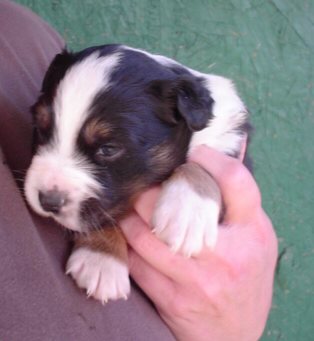 pka "Hobi"
Email For More Info
Home ||| Cowboys ||| Cowgirls ||| Available Wranglers