SkyeHi Aussie Owner Gallery
Updates and photos of some of our puppies in their new homes.
"The "R" Pups"
*Ryder, Rollo, Rio, Raven, Ranger, Rainey, Roo, Reno, Ringo & Rossa*
Roper & Brinley Litter Born 11/27/05
Jazz ~ Marne, MI

2008 Update: Just a quick note on progress. Last year Abbe got 3 legs on Jazze at the 4H shows, so she had to go on to the next level. First show was last week and she got a 193 in obedience and Reserve Champion with that score. Today did well, they got 1st in showmanship and Champion in obedience with an overall high score of 197. Got a 100 in agility too. I'll send you some photos to post. She is still as great as ever and my best buddy. Will be going to State 4H show Aug 16 and the last fair is 20th. Will be going for CD next at ASCA shows. Most are far away, but hopefully can finish at a 3 day show. Write you later. Judy, Abbe and Jazze (Rollo)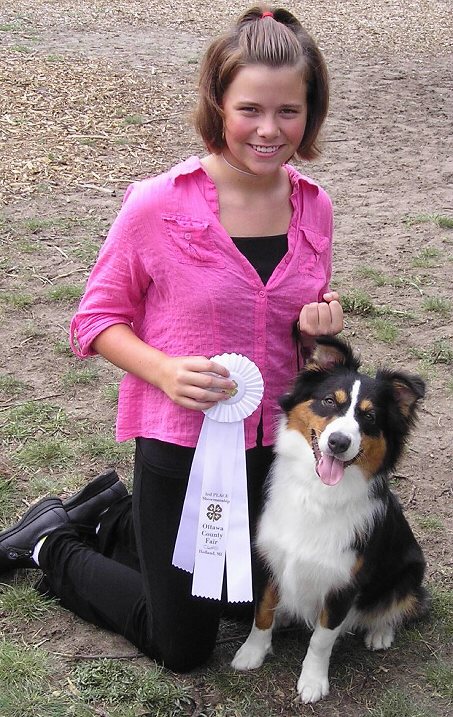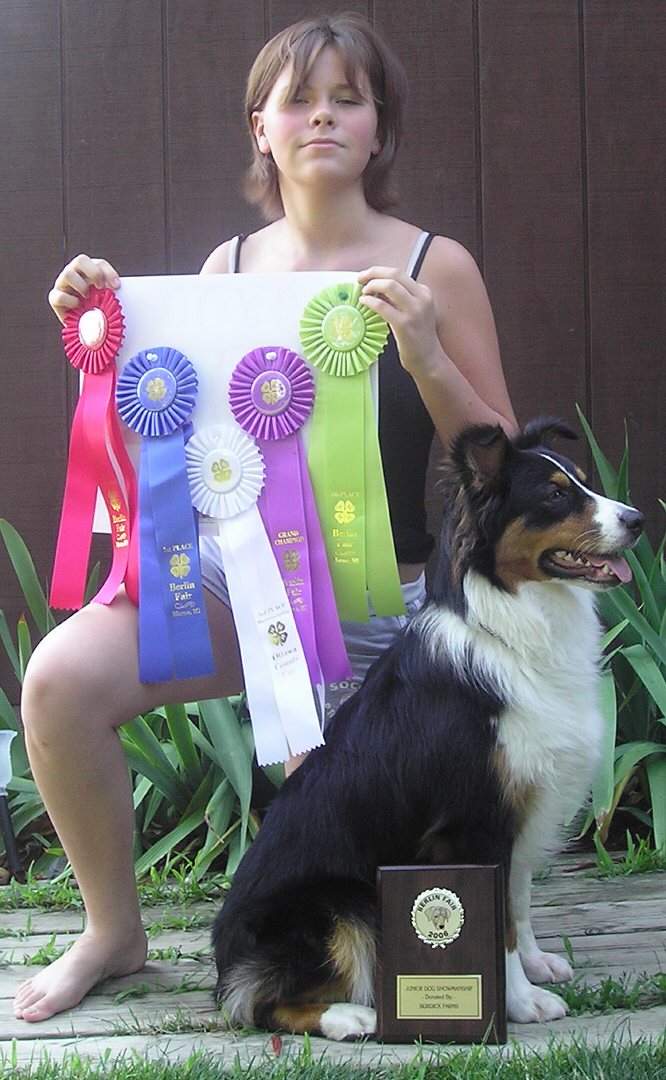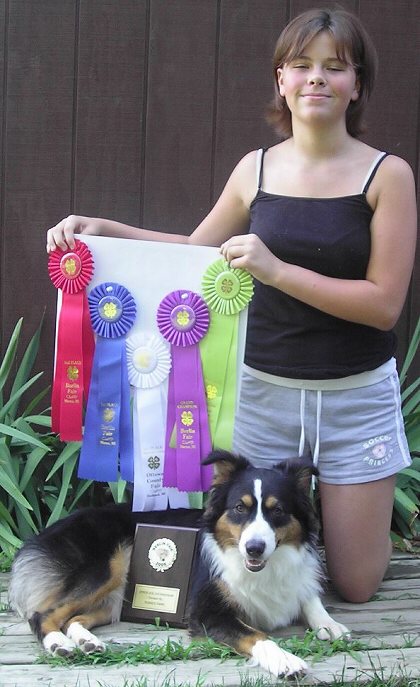 "Here's a couple of photos of Jazz (8 months old) & Abbe with their ribbons. She is so pretty, all I get are compliments on her markings and she knows it. Abbe and Jazz took first place overall in the junior class for conformation. Abbe was ecstatic. They also took second place in group, which is synchronizing 4 dogs in obedience exercises."
Roper & Brinley pup born 11/27/05
pka "Rollo"
Johnny Ringo ~ Portland, OR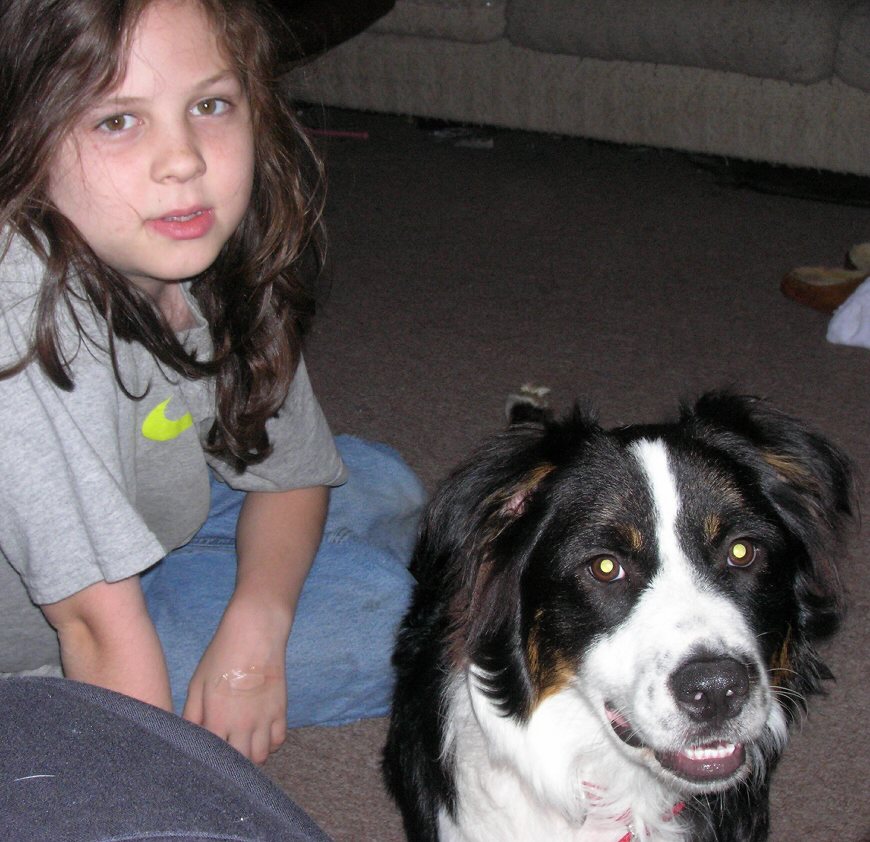 "This is Johnny Ringo with our son, Dustin. They are best buds! Ringo is such a joy! He loves to play fetch and herd our cats. He also likes camping and hiking. He's not at all fond of large bodies of water, but he loves kiddie pools! He's a real lover, too. Always wants to be with the group. Thank you!"
Roper & Brinley pup born 11/27/05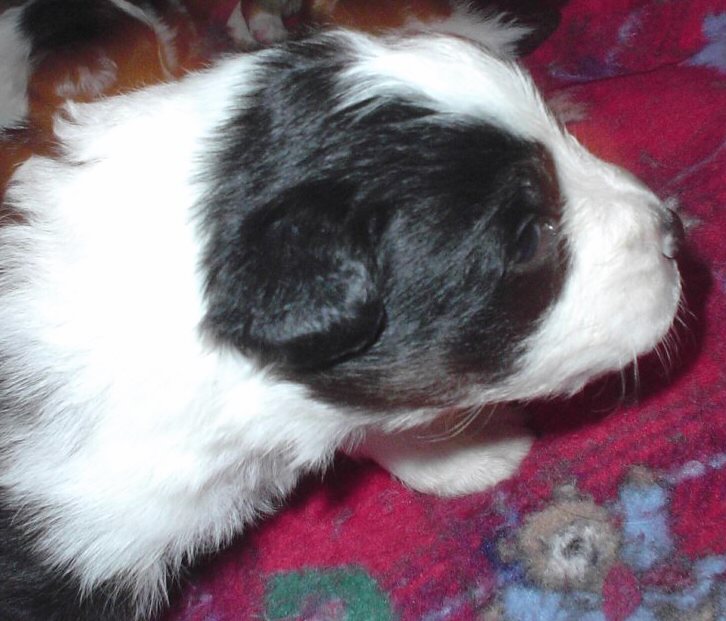 "Ringo"
Dot ~ Corvallis, OR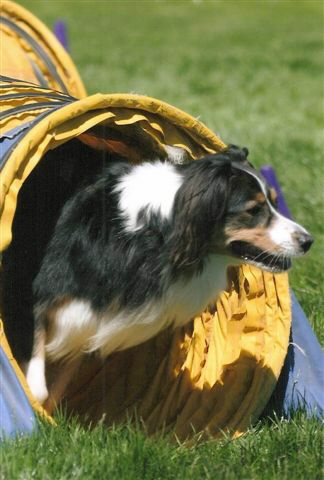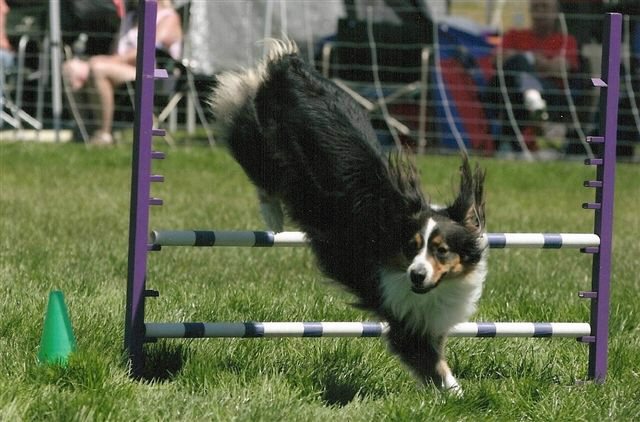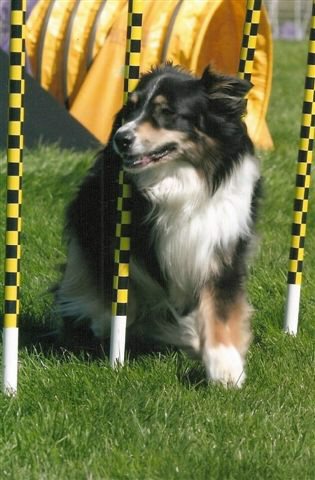 2008 Update
Hi Lynne- It's been a while so I thought I'd give you a quick update on Dot & Hazel. As you can see they are beautiful girls! They are also good buddies and have completely different personalities. Dot and I did our first agility trial in Newport, OR this past weekend. What a blast! Dot did great, qualifying in 7 out of 12 runs. She also managed to place in 4 out of those 7. She loves being in the ring and being the center of attention. She also loves having her picture taken. On a couple of runs she ran over to the camera man and was basically trying to give him a close-up pose. At least she is a speedy little thing so we still managed to qualify in those runs once I got her back on track. She is quite the diva. :0) Hazel is training with my 14 year old daughter and they are coming along great. She will be old enough to enter her first trial in September. There is going to be one here in Corvallis in October so that will work great. I think she is going to be a great distance dog. Like Dot, she also has tons of enthusiasm for the sport. Hazel is such a sweet, happy-go-lucky girl. She's all about having a good time and is often a big goof ball. :0) We are so in love with both our beautiful girls. They add so much to our lives. It was the best decision we ever made to add a second Aussie to our family. Hope all is well with you. We always check the website to see any new puppies. They are always adorable. Take care, Kris Rondeau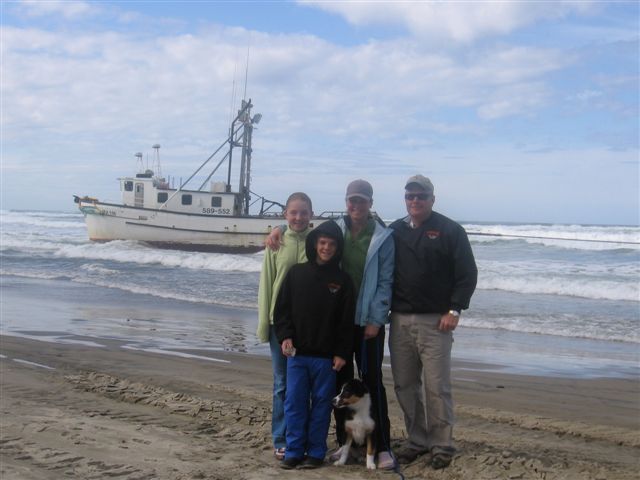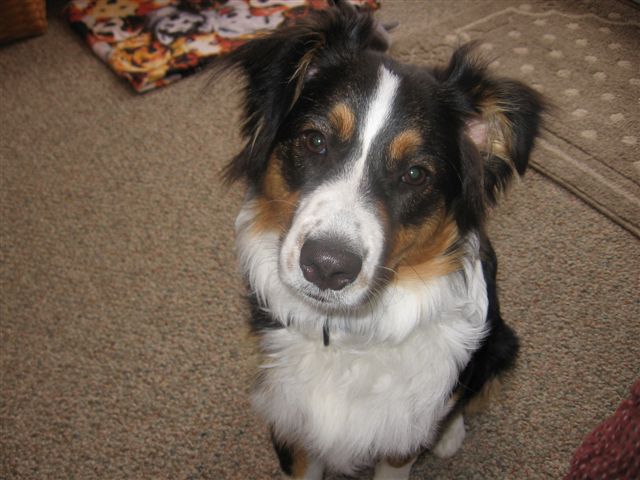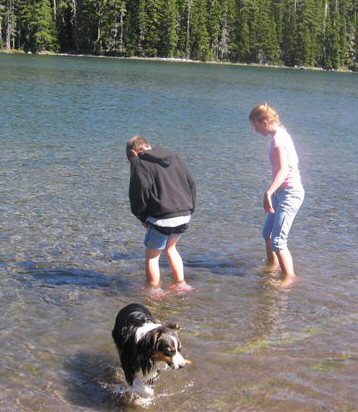 "Dot is doing great!! What a personality. She loves everyone. She loves to run the bases with my son's baseball team after practice. The only thing that has as much energy as an Aussie is a group of 10 year old boys! She is really turning into a beautiful Aussie. People always comment on her beautiful markings and her glossy coat. Dot completed Puppy Kindergarten and is taking Beginner Obedience this summer. She doing great. We are looking forward to eventually doing some agility. She is a wonderful dog. Very spoiled and much loved!"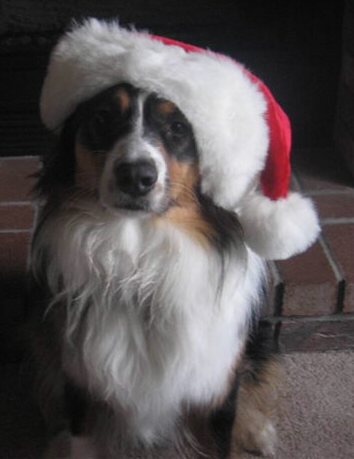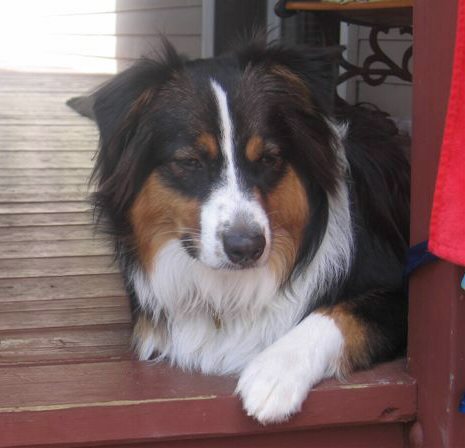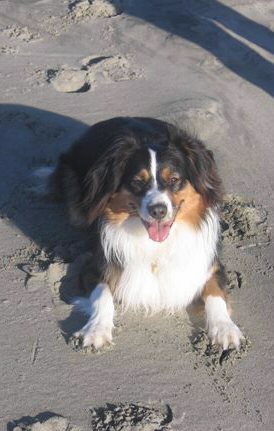 12/06 Update: Thanks for the cute x-mas card from the Aussie Posse. Dot (Rosa) sure looks a lot like Brinley. Dot is doing great and looking forward to her first Christmas in our house. She has been very involved in everything from wrapping presents to decorating the tree. She is happy being wherever the family is. This last fall my son taught Dot to play football. This seems to be her favorite sport so far as she likes the body contact. :0) She responds to the commands, "down, ready-set", "hut, hut". It is very funny to watch. Though this skill may not win her any ribbons, it has earned her the respect of many 11 year old boys as they try to get by her for a touchdown. She definitely has the moves.
Our local paper puts on a pet photo contest and picks the top twelve pets to be in a calendar. We entered Dot and out of 400+ entries she won the "Miss October" spot. :0) She recently had a "photo shoot" for her calendar picture. I will send you a copy when we get the pictures.
Thanks so much for a wonderful Aussie. She has such a fun personality and is a very treasured member of our family. She never fails to make us laugh and is so happy just to be involved in whatever we are doing. We are looking forward to many happy years together! MERRY CHRISTMAS AND HAPPY NEW YEAR! Greg , Kris, Hannah & Henry
Roper & Brinley pup born 11/27/05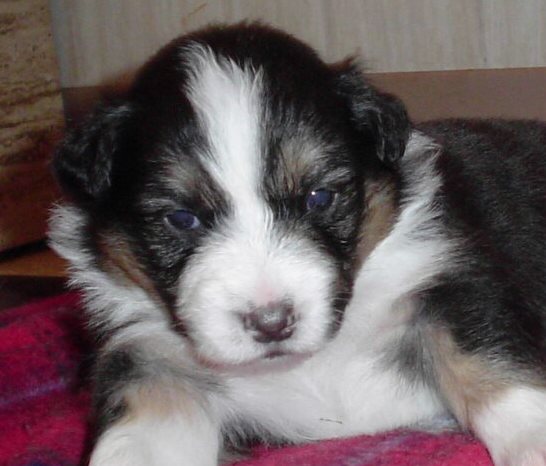 pka "Rossa"
Rueger ~ Forrest Grove, OR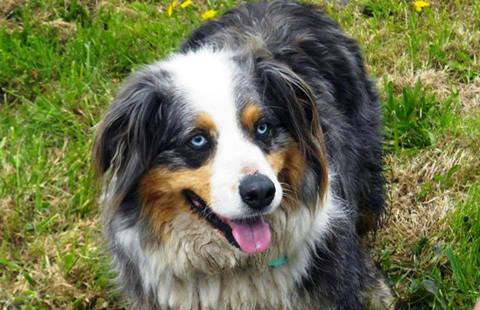 2014 Ruegan strong and happy at 8 years on Love Farm Organics. We love him dearly! Thanks Lynn!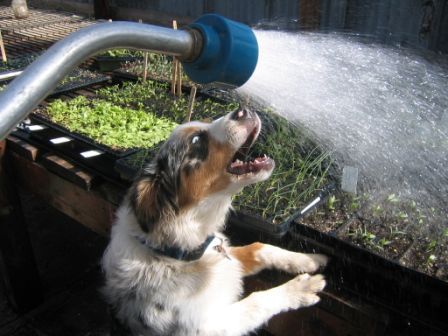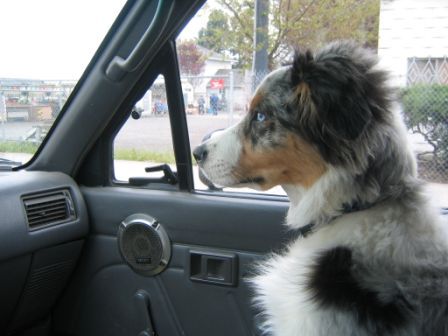 "Rue is doing so wonderful. He is the love of my life!"
Roper & Brinley pup born 11/27/05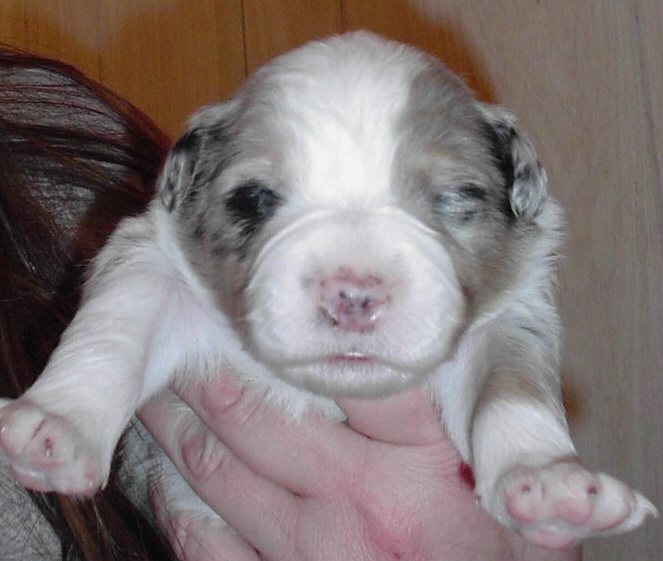 pka "Reno"
Jack ~ Mt Vernon, WA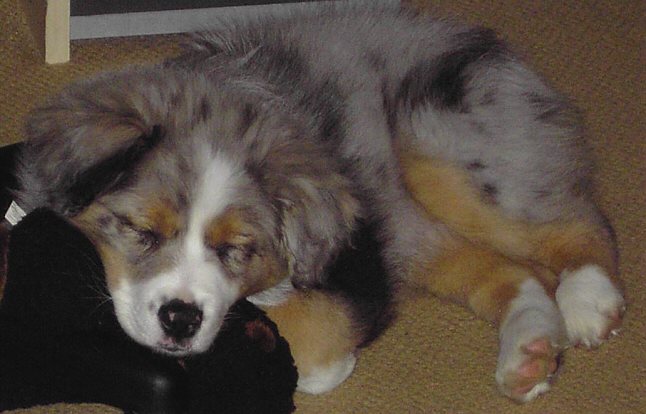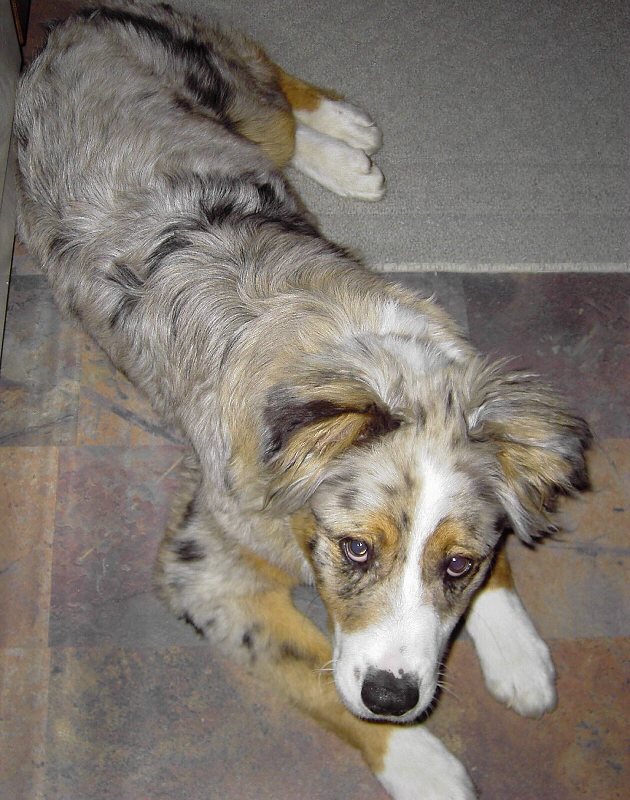 Roper & Brinley pup born 11/27/05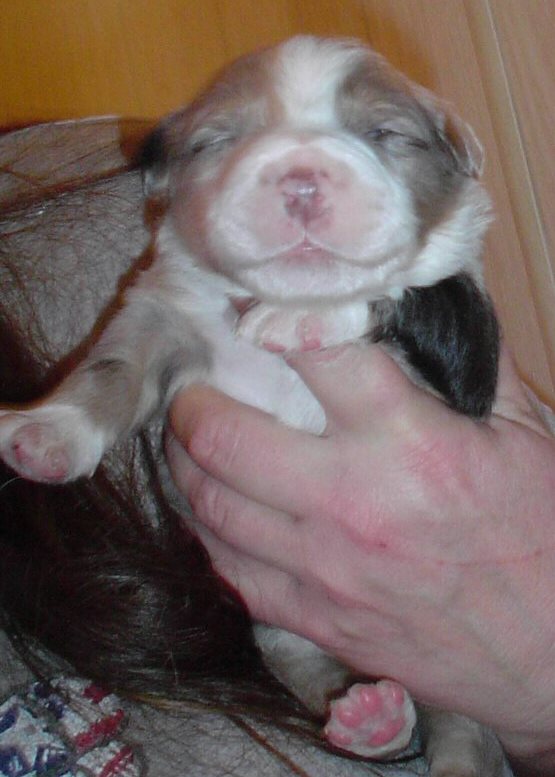 pka "Ranger"
Roo ~ Eugene, OR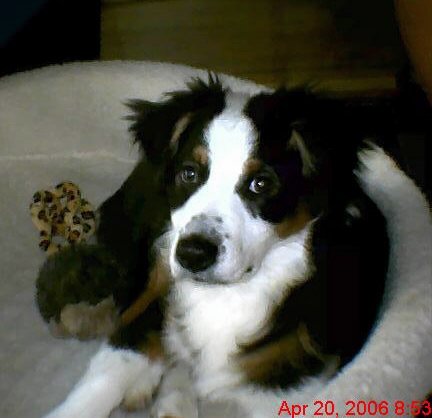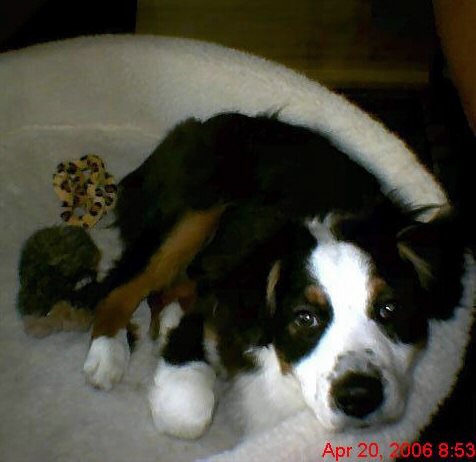 "Thank you for sharing your clever little girl and for saving the very best of the 3 Aussies we have had just for me."
Roper & Brinley pup born 11/27/05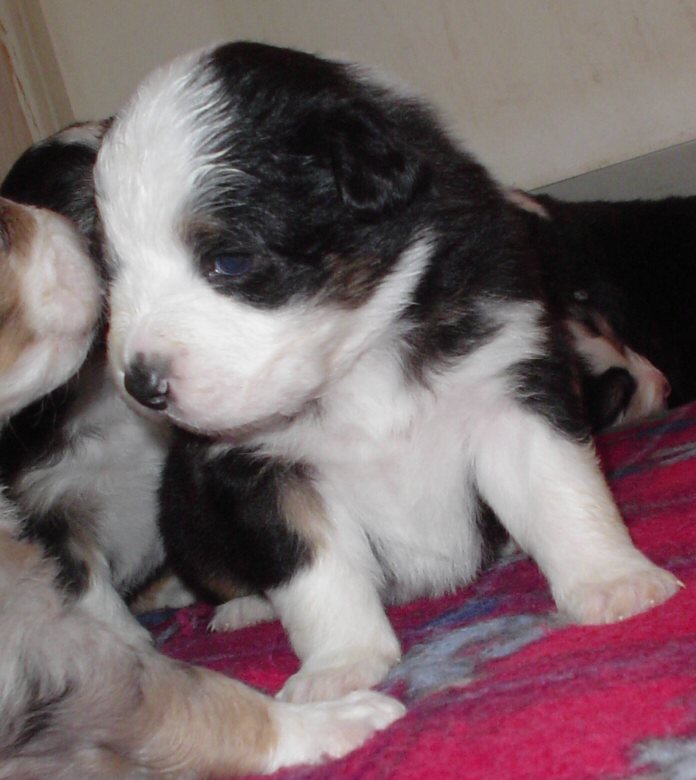 "Roo"
Rainey ~ Olympia, WA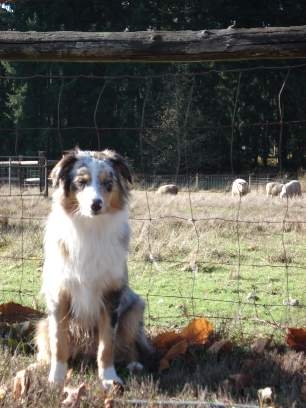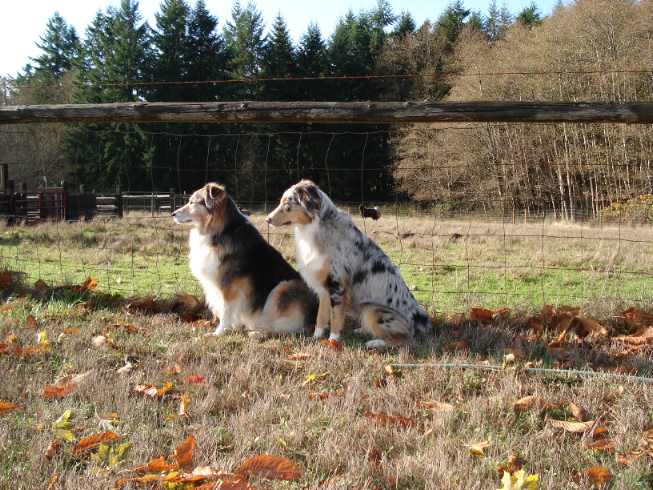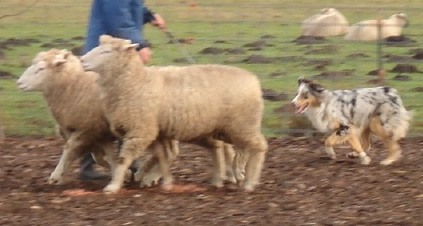 "Rainey at one of her herding classes."
Roper & Brinley pup born 11/27/05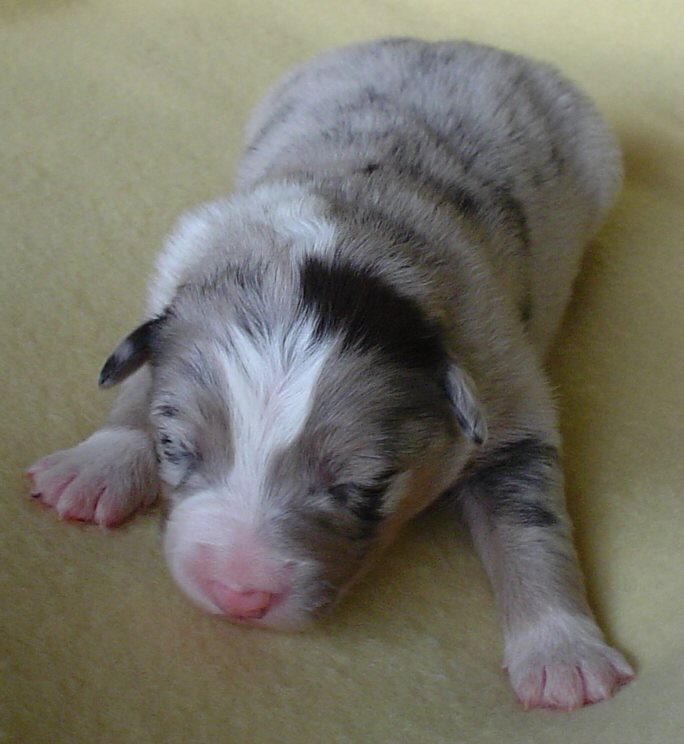 "Rainey"
Raven ~ Bend, OR
Roper & Brinley pup born 11/27/05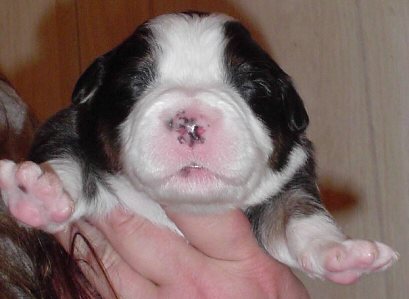 pka "Raven"
Rio ~ Corvallis, OR
Roper & Brinley pup born 11/27/05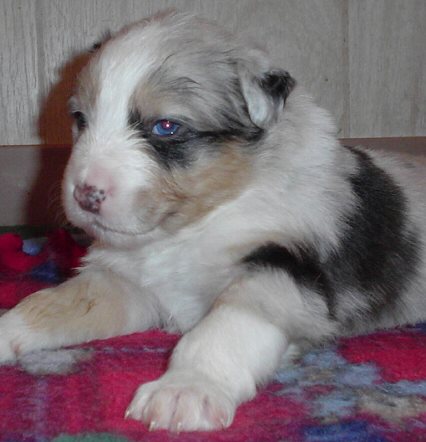 pka "Rio"
Ryder
"Hi, Ryder is doing great. He has been so spoiled. My son Trevorr that was with us when we picked him up baby's him. David will call him wiggle butt. He will stand there and wiggle his butt when he gets excited. He also calls him poopers. My mother-in-law says he is a very pretty dog. She loves that he is well mannered. He doesn't act spastic. Everyone loves him a lot. Talk with you soon. RoseAnn"
Roper & Brinley pup born 11/27/05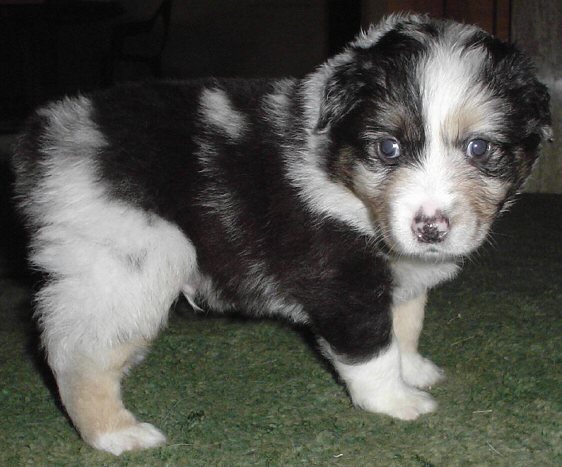 "Ryder"
Email For More Info
Home ||| Cowboys ||| Cowgirls ||| Available Wranglers ||| Stud Muffins